Until All Are Free: N2GIVES Announces 2021 Giving And Partners
Right now, around the globe, there are approximately 40 million trapped in forced labor or sexual exploitation. The N2 Company is proud to help fund the life-saving efforts of nonprofits fighting this injustice.
Through N2's giving program, N2GIVES, we've donated more than $13 million to the cause. This was made possible by the hard work of our Area Directors, the partnership of our local advertisers, and our engaged readers.
Through the years of giving to many nonprofits with big hearts and dreams to end human trafficking, it became clear we needed to focus our giving on organizations that provide a web of support in the anti-human trafficking realm: nonprofits who work together, creating an effective force and network where their impact is greatest. Love Justice International, Atlas Free, and International Justice Mission are our 2021 N2GIVES nonprofit partners.
All three organizations pour their heart and soul into their work, each serving as a separate but vital player in the anti-trafficking movement by employing their own unique strengths and working with those who have specific expertise in combatting slavery.
Here are their stories and how they fight to #endit.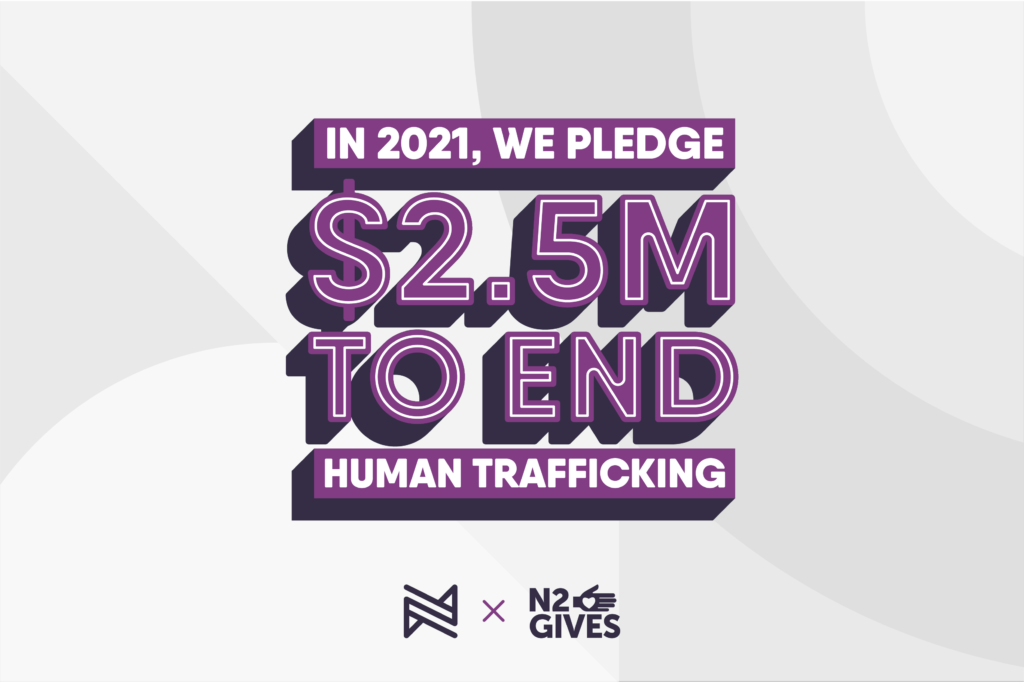 Victim Prevention
There are many tactics used by traffickers to trick vulnerable people into slavery. In an all-too-common scenario, victims are lured away from their homes and escorted into bordering countries by the promise of a much-needed work opportunity. It's only when the victim arrives as a complete outsider, with no one to turn to for help, that he or she realizes the true nature of the "work."
This is just one of the tactics Love Justice International is on a mission to disrupt. The nonprofit currently operates 56 transit monitoring stations at prime border crossings in Nepal, India, Bangladesh, and South Africa that are known for their unassuming role in a victim's journey into slavery. By crowd-watching for any suspicious behavior and questioning potential traffickers and victims, Love Justice has successfully intercepted more than 22,000 people from exploitation.
A Network of Local Partners
We've supported Atlas Free's mission in the past, yet one of our biggest changes in giving for 2021 is supporting their Local Partner Network (made up of smaller nonprofits fighting sexual slavery). This model shares best practices, consults in helpful areas, and financially supports a part of each local partner's budget for the year. We are excited to give to RFI's network and to connect smaller local groups we've supported in the past so they can receive more than just financial help along their way to making a greater impact.
Ending the Cycle of Injustice
International Justice Mission believes every person deserves to be free, and they partner with local justice systems to end violence against those living in poverty. Restoring victims from slavery and then bringing the criminals who committed this crime to justice – ensuring traffickers cannot exploit anyone else – is how they work toward ending slavery in our lifetime. IJM works with local authorities in 13 countries to restore victims of violence, forced labor, and sex trafficking, fight in courtrooms until slave owners are put behind bars, and provide training and support for local law enforcement to end the cycle of violence and injustice.