Rebecca Cooper: On A Mission
This story originally appeared in the September issue of Denver Metro Real Producers, a real estate magazine published by the company behind N2GIVES. To learn more, visit The N2 Company.
Rebecca Cooper pursues life and business through an ever-present passion for helping people. She does this through real estate as well as other varied facets and pursuits, including running an anti-trafficking nonprofit organization. As an adventurer, entrepreneur, humanitarian, and keen negotiator at heart, Rebecca often has her hands in many different activities, which is why real estate fits so well into her life, the unifying tie being compassion for people, no matter what their needs might be. Service for others is her ultimate mission.
Originally from Shreveport, Louisiana, Rebecca obtained her degree in psychology from Louisiana Tech University before moving to Denver to get her master's degree in justice and mission at Denver Seminary. She became involved with anti-trafficking initiatives while in college, the first being a bike ride across the country with eight strangers in order to raise money for anti-trafficking efforts in Southeast Asia.
"Getting myself out there, getting uncomfortable and seeing the world on a road bike was wild. I learned to push myself beyond my own limits on behalf of a greater cause. This shaped me in very real, life-altering ways. My faith became real to me and I came back with a whole different perspective on life. My faith dictates everything I do, to this day," says Rebecca.
Shortly after returning from her cross-country trek, Rebecca went to Cambodia for a month to work with orphans who had been trafficked or were vulnerable to trafficking. "There were little girls who were as innocent and precious as can be, even though they experienced horrific things. They had no one fighting for them and I promised myself that no matter what I did in life, I would always make room to be involved in anti-trafficking efforts," she says.
And that's exactly what she did. While obtaining her graduate degree at the age of 23, Rebecca started an anti-trafficking nonprofit. She had no idea what she was doing and had to learn everything as she went, including watching YouTube videos about how to conduct board meetings. She was trained and mentored by an adult survivor, who told her that if she wanted to reach women who were being trafficked, sexually exploited or vulnerable to the trade, then she needed to get inside some of the smaller strip clubs in the worst parts of town. So, she did. And she's built relationships with two different strip club owners over the past five years through which she has been able to help countless women with different needs.
"I had to get super uncomfortable but I knew I had to do it. Those initial meetings were uncomfortable and hard, but I acted with confidence knowing that this was meant to happen. What we've been able to do as a result has been awesome," says Rebecca.
Although Rebecca was and is extremely passionate about her nonprofit, she knew she didn't want to make money from it. However, she was still highly selective about the means in which she would make an income. "It was important to me to have purpose and meaning to the money I was making," she says. As she began searching for that, a good friend connected her with Mark and Jen McClung, the owners of Love Your Hood, who were looking for a licensed assistant.
"I always had an interest in real estate, but no interest in being an assistant. However, when I went for my interview and met Mark, I knew immediately that I wanted to start as his assistant. And I am so glad I did," says Rebecca.
Rebecca went to work for Mark as a licensed assistant in December 2015 and became a broker associate in May 2018. Real estate has allowed Rebecca to do what she loves most, connect with an array of people, be invited into their lives and have the opportunity to help them. She has not only become passionate about her clients, but also about learning the business and doing everything she can to become an expert.
"I always had the goal and dream of living a life of purpose, meaning, and working with people. Real estate checks all of those boxes. It is so fulfilling. Real estate is more than a full-time job but it also gives me the flexibility I need to run my nonprofit and be involved in our community. I really feel like I lucked out with real estate and Love Your Hood," she says.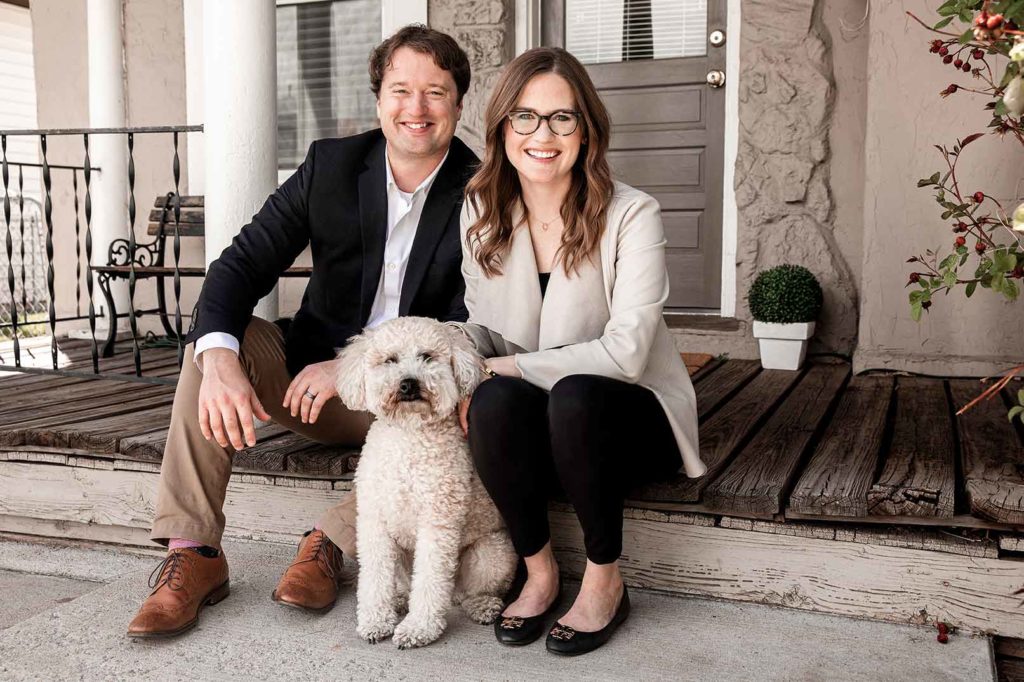 Rebecca and her husband, Tim, are both entrepreneurs at heart and have several ideas to help make life and the world a better place, which they plan to pursue. Together, they enjoy exploring with their dog, Bear, squeezing out everything Denver has to offer. Rebecca enjoys SoulCycle, running, cooking, reading, traveling, cheering on the New Orleans Saints, hosting and "celebrating the mess out of life and people."
As Rebecca continues to keep people at the center of all her endeavors, it will be exciting to see the community she will continue to build and develop, just how large, eclectic, and compassionate it will become.